About Us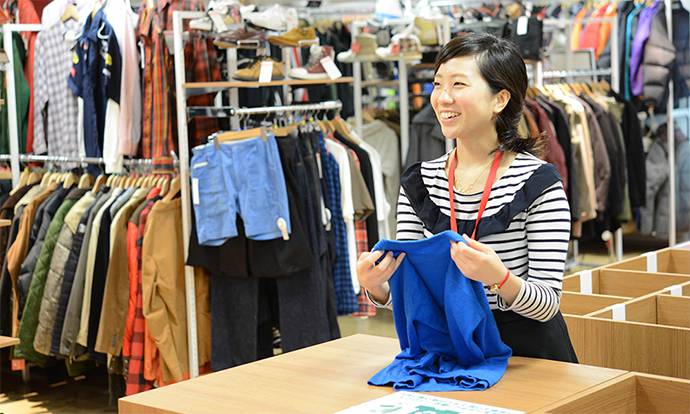 We are "Reuse"store that buy &
sell items for a better Eco Life.
Reuse means "use again."
In our current generation, recycling is important.
Recycling is always good but it cost time, money, and resources.
Our store purchases, repairs, cleans, and resell back to the community.
Instead of waiting to recycle, you can come and sell at our store.
By selling to us, we are making the world a better and cleaner place.
Why Choose Us
Nationwide
Store Chain

Biggest reusing store in Japan.
We provide you safe and convenience services.

Wide variety of products

Audio, Music instruments, Clothes, Furniture, Toys, and more

Professional Team

Our workers are very knowledgeable with our products.
So don't hesitate to buy & sell
Type of Stores
We are a Nationwide Store Chain for your convenience.
"HARD OFF" "OFF HOUSE" "Hobby OFF" "Garage OFF" "MODE OFF" "Liquor OFF" "BOOK OFF" "BOOK ON"
These 8 stores are the most demanded types that customer wanted.
HARD OFF mainly buy & sell that deals with Audio, Music Instruments, PC and more.

Main Items

Audio Music Instruments TVs Watches Cameras Plastic Models and so on

OFF HOUSE mainly buy & sell that deals with Clothes, Consumer electronics, Furniture, Sport & Outdoor items, and more.

Main Items

Brand name items, Accessories, Furniture, Kids items, Towels, and so on

Hobby OFF mainly buy & sell that deals with Figures, Games, Plastic Models, and more.

Main Items

Toys, Trading Cards, Novelty goods, Mini Car, RC models and so on

Garage OFF mainly buy & sell that deals with Car items, Bicycle, and more.

Main Items

Car Audio, GPS, Car Parts, Tire, Wheel, Bicycle, and so on

MODE OFF mainly buy & sell that deals with fashionable items and more.

Main Items

Women's Clothing, Men's Clothing, Accessories, Brand name items, Bag and Shoes, and so on

Liquor OFF mainly buy & sell that deals with Liquor and more.

Main Items

Wine, Champagne, brandy, whiskey, beer, Japanese sake and shochu ,glass and so on

BOOK OFF mainly buy & sell that deals with Book, CDs, DVDs and more.

Main Items

Comics, Novels, CDs, DVDs, Games and so on

BOOK ON sells brand new Books.

Main Items

Comics, Novels, Magazines and so on